1st Login In and Navigate to "Councillors"

Overview
The councillors function is designed to allow you to manage all public facing details associated with the clerk and councillors. By simply filling in the form provided and selecting the order in which to display the information for the "Councillors" web page is populated. The information that can be displayed includes. A photo of each person, their name and address, their contact details, their title within the council, their declarations of interest and the subcommittees they belong to.
Edit or Add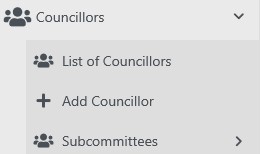 To edit or add a councilor or clerk navigate using the left menu to "Councillors".

There are three options. To "edit" an existing councillor or clerk first select "List of Councillors" and then select the relevant councillor or clerk to edit".
To add a new councillor simple select "Add Councillor" and complete the form with as many details as available..
Adding a Subcommittee
You can amend the list of subcommitees a councillor can belong to by selecting "Subcommitees" from the menu. Then when you are creating or editing a councillor you can add as many as needed for that councillor .
Declarations of Interest
All councillors are required to declare their interests within the parish. The system provides a way to upload this document to the web so that when any member of the public wants to view them they simply select that councillor and the document will be available to view and download.
---
Create a councillor form