1st Login In and Navigate to "Reports"

Overview
The Reports function is designed to provide an easy to use way of adding parish reports. They appear on the sub-menu page called Reports & Audits under the main "Parish Council Navigation". The "Report Types" sets if the report is an Audit report or any other type of report.

Edit or Add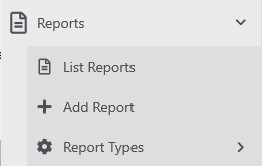 To edit or add a Report item first select "Reports" from the left menu and then either select "List Reports " to edit an existing one or select "Add Report" to create a new one.

Set the "Reports Type" from the drop down menu" - You can add to this drop down list by using "Add Report Types". Next select your report you want using the "Report File" "+" symbol. This which allows you to select from the "Media Library". Set the publication and the report coverage range if needed. Then just "Save Draft" or "Publish".

---
Create a Report or Audit using this form